UnitedHealth Earnings Preview: Will Profit Growth Compensate For Political Risk?
Reports Q4 2019 results on Wednesday, Jan. 15, before the open
Revenue expectation: $60.93 billion
The past three months have produced a remarkable turnaround for the world's biggest health insurer, UnitedHealth Group (NYSE:UNH). After languishing in a bearish spell for the most part of last year, its shares have jumped more than 30% during the last quarter. Can this rally continue, or should we be looking for signs that the stock is losing its momentum?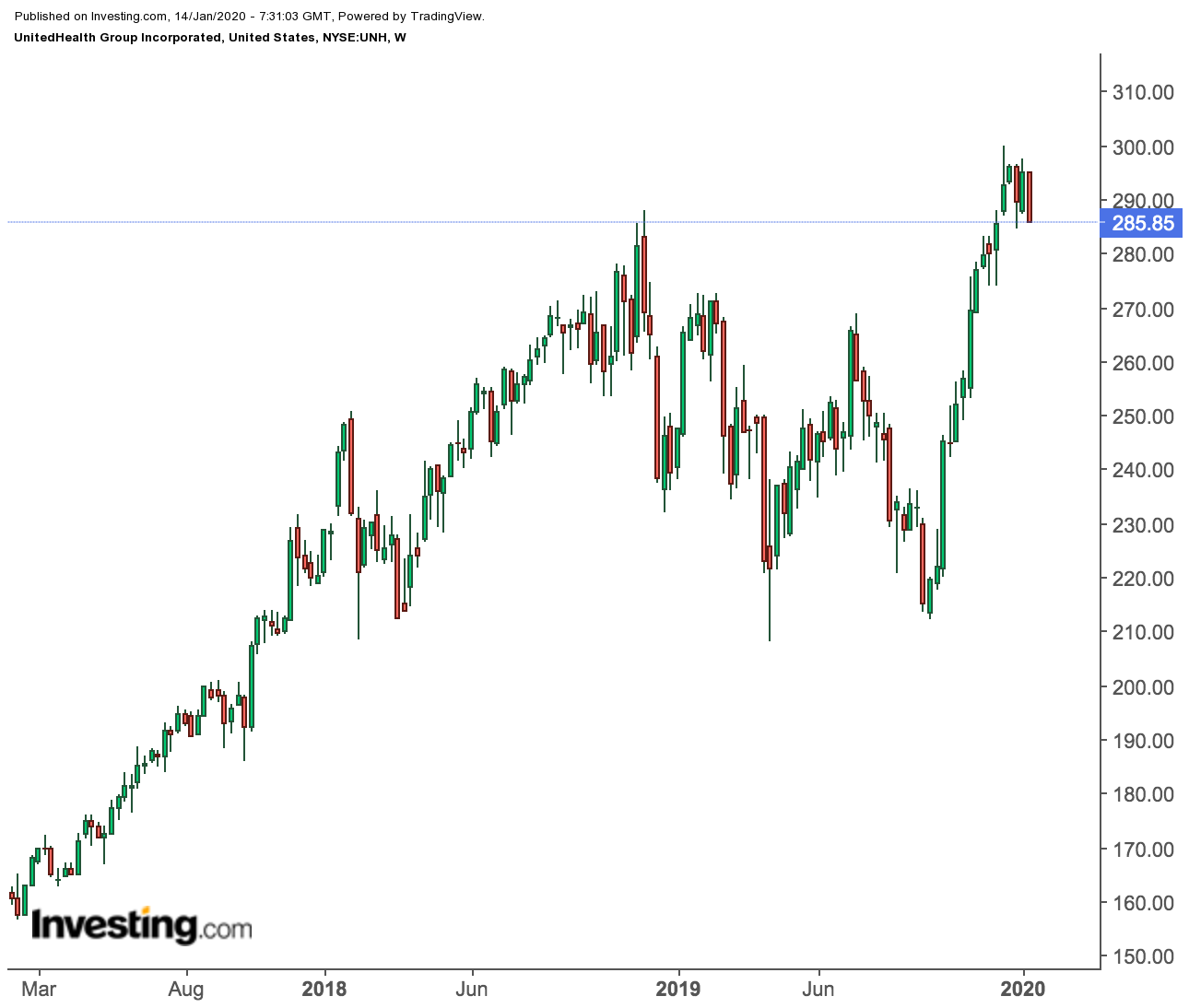 Weekly Prices
Two factors, in our view, have contributed to this sharp recovery that occurred even though the political environment remains hostile to healthcare providers in the U.S.
First, UnitedHealth has been consistently showing that its sales are strong and it's well on track to improve the bottom-line profitability. In its previous earnings report, the company boosted its profit guidance for 2020 as revenue growth from its health services and insurance units brightened its outlook.
UnitedHealth Chief Executive David Wichmann suggested on a call with analysts in October that adjusted earnings per share growth could hit between 13% to 16%. That implied midpoint of Wichmann's profit range met investors' expectations, especially after solid 2019 results.
Amid this strong earnings momentum, investors have started to ignore the political risks associated with the 2020 Presidential campaign. UnitedHealth stock suffered badly in the first-half of last year as some leading Democratic candidates campaigned for a comprehensive overhaul of the U.S. health system.
The "Medicare for All" campaign could eliminate most private insurance in favor of a government plan and create price pressure throughout the health-care sector. It seems to be a very ambitious undertaking and doesn't have much chance at passing anytime soon, but it could keep investors away and the stock depressed.
It's the preferred policy of Massachusetts Senator Elizabeth Warren, who is one of the Democrats' front runners, at least for now. Even the comparatively moderate public options proposed by candidates such as former Vice President Joe Biden would take market share from insurers and put pressure on profits, according to a Bloomberg analysis.
But in the past quarter, investors started to ignore this political and health policy uncertainty as they shifted their focus to the company's cash generation and its defensive nature. In our view, the move higher has probably run its course unless the healthcare provider produces another blowout quarter on Wednesday.
After massive gains in the past three months, the analyst community doesn't see much upside in UNH stock from here. The shares, which were trading at $285.85 at yesterday's close, after falling more than 3% through the session, is close to analysts' 12-month price target of $322.52.
Bottom Line
UnitedHealth stock is offering investors a high risk-reward equation where a strong business making a boatload of cash could come under pressure if the Democrats win the U.S. elections and push for healthcare reforms.
Investors who bought UNH stock during the October dip are in a good position to hold on to their positions, but for those wondering whether to buy now, waiting on the sidelines is probably a better strategy at this point, unless the stock weakens again and offers a good entry point.